Team Navy Road to the Warrior Games Sport of the Week #10 – Track
August 9, 2021 | Story by Megan Trexler | Commander, Navy Installations Command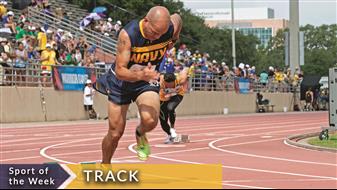 WASHINGTON -- In this weekly series, we will explore each of the twelve sports that will be featured during the 2021 Warrior Games: archery, cycling, field, golf, indoor rowing, powerlifting, shooting (precision air sports), sitting volleyball, swimming, track, wheelchair basketball and wheelchair rugby.
During week ten, we are focusing on Track. Track is a fascinating sport because it combines individual and team aspects of athletics into one sport.
The rules of Paralympic-style track is almost identical to those of its non-disabled counterpart, with certain allowance are made to accommodate certain disabilities. For example, the blind and more severely visually impaired runners compete with guide runners, who are often attached by the wrist with a tether to the runner.
Since track's debut during the first Olympics in 776 BCE, there have been a handful of major changes. Including that fact that the track was 600 feet long, vastly different from today's standard track of 400 meters, approximately 1,312 feet).
With track, the key to success is speed, strength, and endurance.
-------
From the explaining the term athletics to the Paralympic Games history, here are a list of four facts to know.
Sport Origin & Paralympic History: Track is one of the oldest sports. While track was the original event featured during the first Olympics back in 776 BCE, track events have been a part of the Paralympic program since the first Paralympic Games in Rome, Italy, in 1960. Within the Paralympic Movement, track is the biggest sport in terms of number of participating athletes and countries.

Warrior Games Competition Style: During the Department of Defense (DoD) Warrior Games, the field competition is composed of six major events: the 100M sprint, 200M spring, 400M sprint, 800M race, 1500M race, and 4x100M relay race competitions. Athletes may compete in all five individual springs and race competitions across twelve classification categories. Relay Teams are comprised of four athletes with a maximum of three athletes from the 6.0 classification category. Athletes may compete as a member of only one relay team. Apart from the Combined Gender Relay Team race, male and female athletes compete separately in all competitions and will race either ambulatory or racing wheelchair events, based upon their classification category.

Cycling Classification: Sport classification is a system that provides a level playing field for athletes competing in adaptive sports. The 2021 Warrior Games will offer athletes the ability to compete across three major competitions, including five ambulatory events, five racing wheelchair events, and three 4x100M relay team. Across the male and female divisions, there are ten classification categories for the ambulatory competitions and two classifications categories for the racing wheelchair competitions. The 4x100M relay team competition has three events: male relay team, female relay team, and combined gender relay team.

Athletics vs Track & Field – What's the Difference?: While the DoD Warrior Games makes a clear distinction between track and field, internationally the combination of track and field events is called "athletics." Athletics is a collection of sporting events that involve running, throwing, and jumping. The name is derived from the Greek word "athlon" meaning "contest."
Follow along on Team Navy's Road to the Warrior Games on the official Team Navy webpage, Facebook, and Instagram, and join us in cheering for the team at the 2021 Warrior Games!