Athlete Spotlight - Tony Jungblut: Unwavering, Strong-Willed Spirit
August 9, 2021 | Story by Megan Trexler | Commander, Navy Installations Command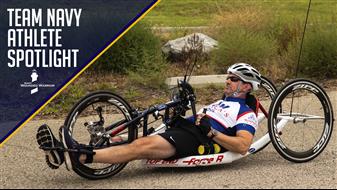 WASHINGTON – After serving 26 years in the US Navy, CDR (ret.) Anthony "Tony" Jungblut received unexpected news from his doctor: a diagnosis of multiple sclerosis. "It was certainly a gut punch, as we were also expecting our twin boys around that time," he said. While his health remained stable, Jungblut was able to stay on active duty until he medically retired in October 2018.
Jungblut shared that after his diagnosis, he needed an avenue to stay active and that Navy Wounded Warrior's adaptive sports program provided him that opportunity. "I don't have to stop doing what I love. I just had to find a different way." He continued, "Just because we have limitations, does not mean we are limited."
Jungblut attended the virtual 2021 Navy Team trials, where he qualified with other active duty and veteran Sailors and Coast Guardsmen to represent Team Navy in the 2021 Department of Defense (DoD) Warrior Games.
This is Jungblut's first year representing Team Navy at the DoD Warrior Games. He is slated to compete in cycling, indoor rowing, shooting, and swimming. Jungblut said he is looking forward to competing in hand cycling. Jungblut shared that, "No matter what is going on, I can just get on the bike and pedal. Handcycling has been a such a great release for me."
Jungblut's shared that his favorite quote is "A ship in harbor is safe, but that is not what ships are built for," by John A. Shedd. Jungblut expressed that this quote resonated with him because "you can be safe, and in a place, where nothing affects you, but that's not what we were built for…I want difficulty, I want to figure out ways to adapt and overcome life's challenges."
Jungblut shared that staying focused and true to himself is not just important for him, but for his family and teammates as well.
Navy Wounded Warrior is the Navy's sole organization for coordinating the non-medical care of seriously wounded, ill and injured Sailors and Coast Guardsmen and providing resources and support to their families.
The Warrior Games are a Paralympic-style competition among more than 200 wounded, ill and injured service members from all branches of the U.S. military, as well as from international armed forces. The 2021 Department of Defense Warrior Games will be hosted at Disney's ESPN Wide World of Sports Complex in Orlando, Florida from September 12-22, 2021. The invitation-only event features 12 sports: archery, cycling, field, golf, indoor rowing, powerlifting, shooting (precision air), sitting volleyball, swimming, track, wheelchair basketball and wheelchair rugby.
---
DoD Photo by Roger L. Wollenberg