Athlete Spotlight – Lorraine Currow: The Power of Perseverance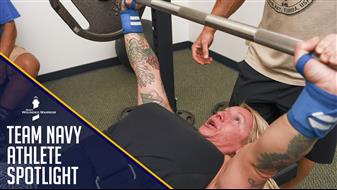 August 10, 2021 | Story by Megan Trexler | Commander, Navy Installations Command
WASHINGTON – The bench press commands are simple: start, press, rack. But YN1 (Ret.) Lorraine Currow's recovery journey has been anything but simple.
After an accident, while stationed at the Maritime Force Protection Unit, which resulted in a back injury, Currow couldn't do even the most basic things she enjoyed. Currow expressed that, "Accepting that you're living with an injury or illness, possibly for the rest of your life, is one of the hardest life events one can experience." But, Currow isn't letting her injury stop her.
Although Currow is a first time Team Navy athlete, she is no newcomer to powerlifting. Currow discovered weightlifting and powerlifting shortly after completing her U.S. Coast Guard basic training. Currow shared that weightlifting and powerlifting have aided in her recovery, by not only improving physical strength, but also, increasing her self-worth and mental strength.
Currow first heard about in the Navy Wounded Warrior Program from her nurse while completing paperwork to submit to the Medical Evaluation Board. After she felt comfortable getting back into sports, Currow started participating in Navy Wounded Warrior's adaptive sports events.
With a passion for powerlifting, Currow said, "Without a doubt, I am looking forward to the powerlifting competition while at the 2021 DoD Warrior Games." Currow shared that powerlifting is the ultimate test of physical and mental strength. Currow continued with saying that she is not after winning medals, but that she just wants to do her best and beat her personal goals.
During the Team Navy Training Camp, from July 27 to August 4, 2021 at Port Hueneme, CA, Currow was able to successfully bench 195 pounds, with her goal of benching over 200 pounds during the Warrior Games in September 2021. Currow shared that hitting 200 pounds would be her personal best.
The resources and care provided to her by the Navy Wounded Warrior program, her medical team and other people in her support network deeply affected Currow. According to her, it completely changed her life.
Currow, a recent U.S. Coast Guard retiree, a Panama City, Florida native, now resides in Olympia, Washington. Before making the transition to the U.S. Coast Guard in 2001, Currow enlisted in the U.S. Navy in 1997.
Navy Wounded Warrior is the Navy's sole organization for coordinating the non-medical care of seriously wounded, ill and injured Sailors and Coast Guardsmen and providing resources and support to their families.
The Warrior Games are a Paralympic-style competition among more than 200 wounded, ill and injured service members from all branches of the U.S. military, as well as from international armed forces. The 2021 Department of Defense Warrior Games will be hosted at Disney's ESPN Wide World of Sports Complex in Orlando, Florida from September 12-22, 2021. The invitation-only event features 12 sports: archery, cycling, field, golf, indoor rowing, powerlifting, shooting (precision air), sitting volleyball, swimming, track, wheelchair basketball and wheelchair rugby.