2020 Navy Wounded Warrior of the Year: IT1 Ruth Freeman
Congratulations to U.S. Navy Information Systems Technician First Class Ruth Freeman, selected as Navy Wounded Warrior of the Year by Navy Safe Harbor Foundation.
Nominated by Navy Region Mid Atlantic, IT1 Freeman has endured multiple surgeries and radiation treatment at both Naval Medical Center Portsmouth (NMCP) and Walter Reed National Military Medical Center (WRNMMC). Despite facing significant challenges due to her illness, IT1 chooses to embrace life and experience new adventures whenever possible. She is an inspirational person and always bears a smile. IT1 Freeman performs her military duties with dedication and professionalism. Likewise, she demonstrates a level of motivation and determination to achieve new goals in her personal life. She has the respect and support of her Command and is compliant with her medical care requirements. She is a natural leader, possessing a positive attitude and team focus, which helps in motivating others to be and do their best.
She is actively pursuing her education (B.S. in Cybersecurity); she continues to share her stories, struggles and accomplishments to show others that they can find a new normal and still be active regardless of injuries, medical conditions, or life altering situations.
IT1 Freeman actively participates in adaptive athletics including the USO Outdoor Adventure Team, Get Set 4 All, Virginia Beach Veteran's Rowing Family, USA Cycling, US Rowing programs, Warrior Games as part of Team Navy and was selected to represent Team US at the next Invictus Games. She has gained the trust of the many teams and groups she affiliates with, has motivated those needing a little extra encouragement and provides support and a listening ear to her shipmates.
Navy Safe Harbor Foundation will present the Wounded Warrior of the Year award to Petty Officer Freeman in a private ceremony in January, in compliance with CDC guidelines. We wish IT1 good health and continued success.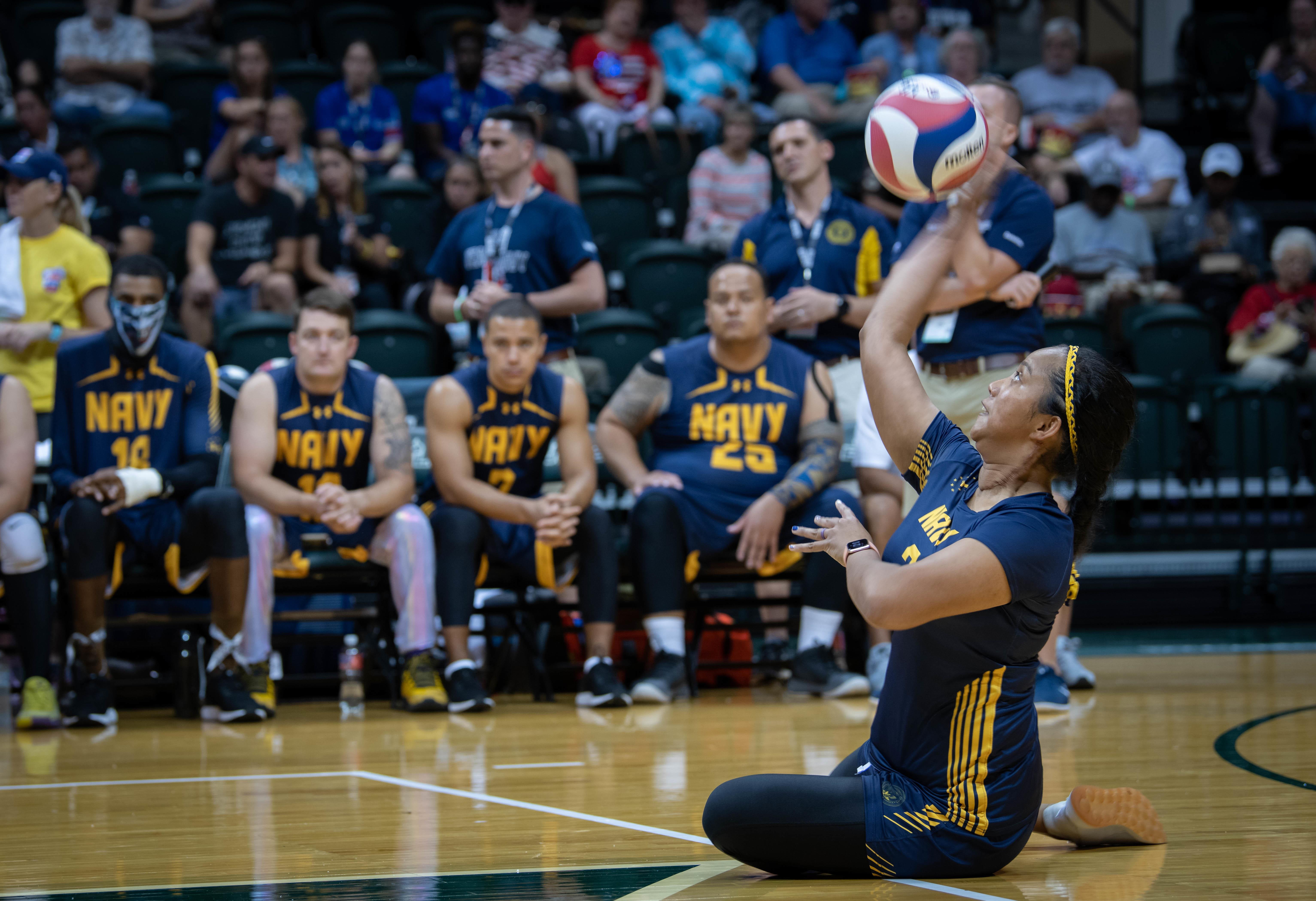 TAMPA, Fla. (June 30, 2019) Petty Officer 1st Class Ruth Freeman, Team Navy, serves the ball during the 2019 DoD Warrior Games sitting volleyball gold medal match at Yuengling Center in Tampa, Florida. Photo by Petty Officer 1st Class Jonathan Trejo
The Navy Safe Harbor Foundation is a non-profit organization. No Navy endorsement implied.