IT1 Ruth Freeman receives Wounded Warrior of the Year Award
By Mass Communication Specialist 1st Class Peter Lewis | Navy Region Mid-Atlantic Public Affairs | Shared from DVIDS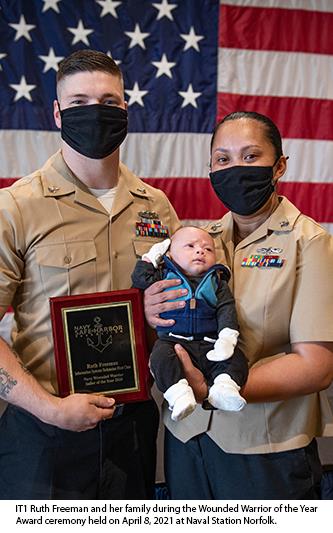 NORFOLK -- Information Systems Technician 1st Class Ruth Freeman was presented with the Wounded Warrior of the Year Award by Navy Safe Harbor Foundation, during a private ceremony aboard Naval Station Norfolk, April 8.
"IT1 Freeman has exemplified the spirit of the wounded warrior program," said Kendall Hillier, the Navy Wounded Warrior mid-Atlantic regional program director, and a guest speaker at the event. "She truly sets an example that all other wounded warriors can follow proudly."
Nominated by Navy Region Mid Atlantic, IT1 Freeman has endured multiple surgeries and radiation treatment at both Naval Medical Center Portsmouth (NMCP) and Walter Reed National Military Medical Center (WRNMMC). Despite facing significant challenges due to her illness, IT1 chooses to embrace life and experience new adventures whenever possible.
"Words cannot explain the gratitude that I feel for being selected for this recognition," Freeman said. "I am both honored and humbled."
While she has had many successes, despite her illness, Freeman noted that she has also faced many personal struggles. She gives much of the credit for her continued success to the support she receives from her peers who have faced similar difficulties.
"Having to go through several surgeries with another on the horizon, weighs heavily on me. There are times when I feel like a failure for not physically being able to be who I was before the cancer," she said. "My friendships with other wounded warriors and caregivers provide a normalcy not available outside the adaptive world. Having tread similar paths, perfection is not expected; just acceptance. They know I am more than my scars and my limits, and understand that recovery is not just physical. Here among my peers, 'invisible' wounds are visible and supported. We can laugh, cry, vent and feel loved. They understand the journey and you can't replace support like that."
Freeman added that having a strong, supportive partner has also been key to keeping her on the path to success.
"I have been blessed with a lot of support, but my husband has always been my rock. He's gotten me through every struggle, setback and storm," she stated. "He also celebrated every inch of recovery and won't let me give up. Knowing I have him, my family and friends behind me, makes it impossible to quit."
Freeman continues to demonstrate a high level of motivation and determination to achieve new goals in her personal life. She actively participates in adaptive athletics, including the USO Outdoor Adventure Team, Get Set 4 All, Virginia Beach Veteran's Rowing Family, USA Cycling, US Rowing programs, and The Warrior Games as part of Team Navy. She has been selected to represent Team US at the next Invictus Games.
"My mantra is take it one day at a time, never lose hope, and always have faith," she added. "These three things help me stay focused and snap out of a funk. It's important to never give up no matter how rough it gets, because the low valley moments are temporary."
Freeman is currently balancing motherhood, actively pursuing a Bachelor's Degree in Cybersecurity, and training for the 2021 Wounded Warrior Games Navy team trials and the 2022 Invictus games. She continues to share her stories, struggles and accomplishments to show others that they can find a new normal and still be active regardless of injuries, medical conditions, or life-altering situations.
The Navy Safe Harbor Foundation is a non-profit organization. No Navy endorsement implied.