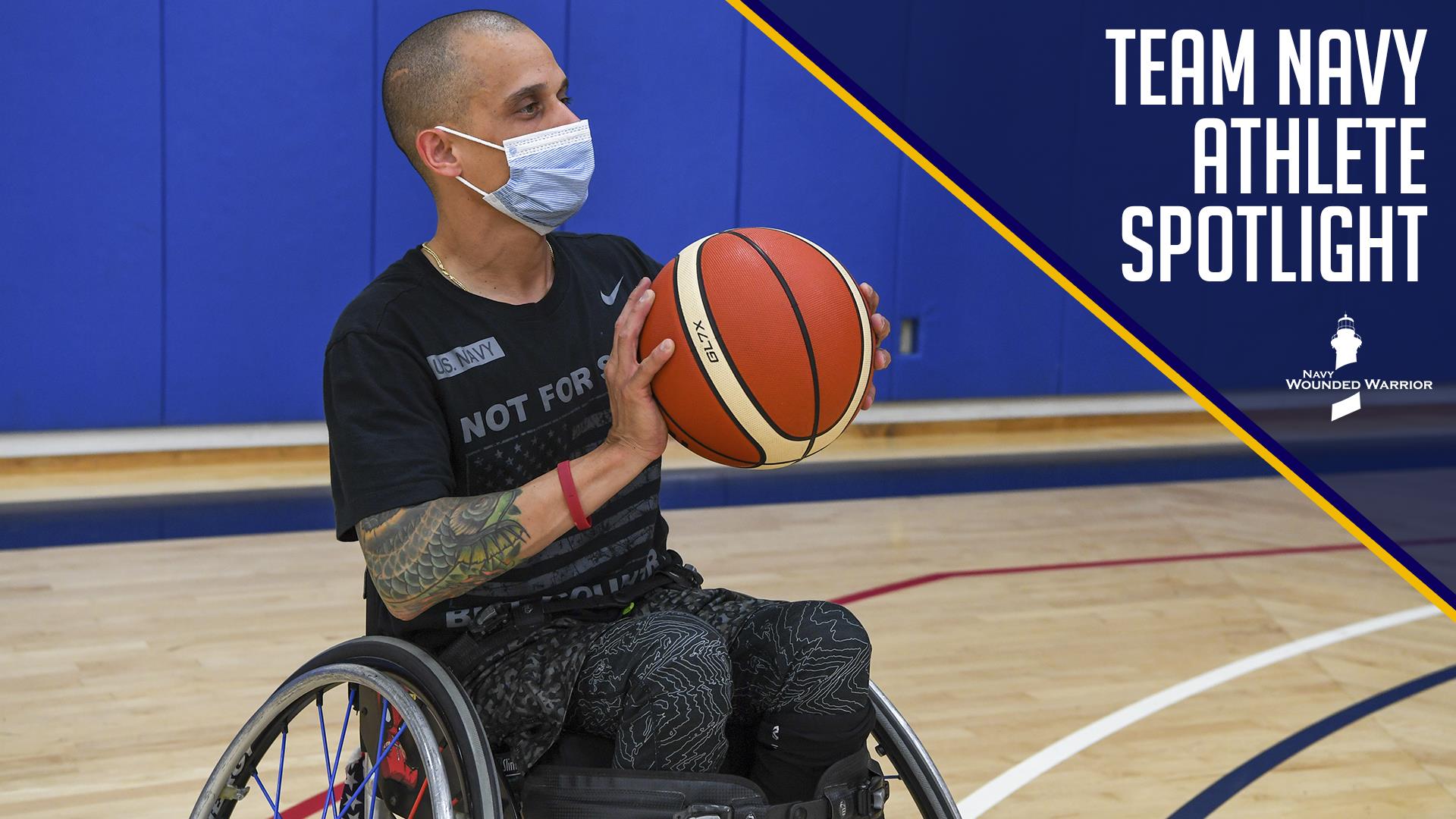 Athlete Spotlight – Jason "Rico" Reyes: Pushing Past Limits
August 24, 2021 | Story by Megan Trexler | Commander, Navy Installations Command
WASHINGTON – Husband and father of two amazing children, FC3 (Ret.) Jason "Rico" Reyes isn't letting anything stop him. Reyes constantly strives to push past perceived limitations.
The Californian was paralyzed by a spinal cord injury during a motorcycle accident. After his injury, resulting in Reyes becoming a T-9 paraplegic, he began getting heavily involved in wheelchair sports. Just two years after his injury, he competed in wheelchair motocross (WCMX). But WCMX isn't the only sport Reyes actively participates in. As part of the Navy Wounded Warrior's adaptive sports program, Reyes has participates cycling, powerlifting, track, wheelchair basketball and wheelchair rugby events.
Reyes, a veteran Team Navy athlete, competed in his first Department of Defense (DoD) Warrior Games during the 2016 games at the United States Military Academy in West Point, New York. A few months after his first Warrior Games competition, Reyes represented Team US during the 2016 Invictus Games at Walt Disney World Resort in Orlando, Florida.
Reyes shared, "Adaptive sports is what makes me feel like I can do anything, even in a wheelchair."
Navy Wounded Warrior is the Navy's sole organization for coordinating the non-medical care of seriously wounded, ill and injured Sailors and Coast Guardsmen and providing resources and support to their families.
The Warrior Games are a Paralympic-style competition among more than 200 wounded, ill and injured service members from all branches of the U.S. military, as well as from international armed forces. The 2021 Department of Defense Warrior Games would have been hosted at Disney's ESPN Wide World of Sports Complex in Orlando, Florida from September 12-22, 2021. The invitation-only event was going to feature 12 sports: archery, cycling, field, golf, indoor rowing, powerlifting, shooting (precision air), sitting volleyball, swimming, track, wheelchair basketball and wheelchair rugby. The 2021 DoD Warrior Games were canceled due to ensure the safety, health and well-being of our service members and local communities as the COVID-19 Delta variant continues to affect the country.