Athlete Spotlight - Mark Coltrain: A Man with a Vision
August 8, 2021 | Story by Megan Trexler | Commander, Navy Installations Command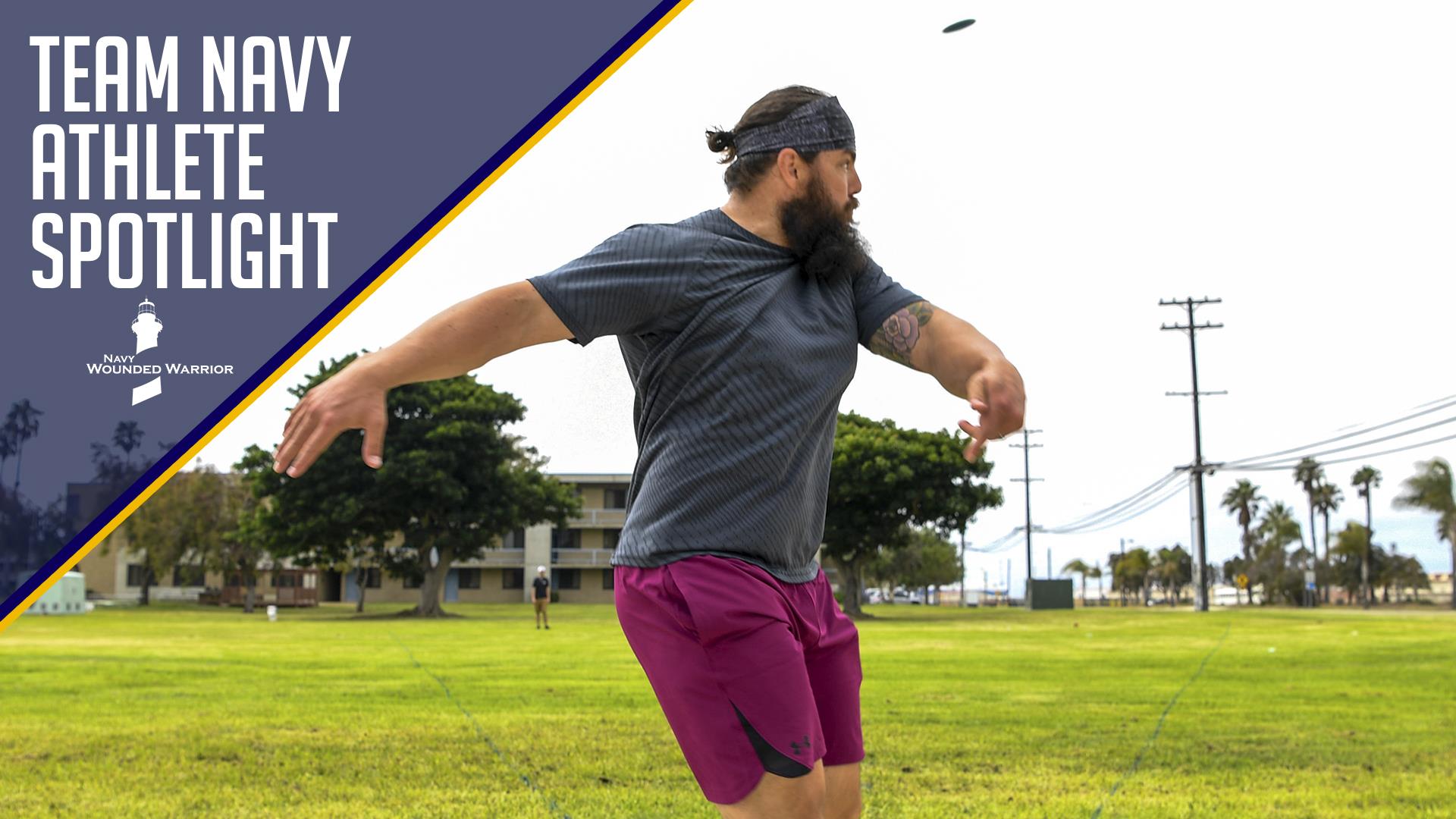 WASHINGTON – Dream. Believe. Achieve. "I could see myself putting on a sweat band, some gym shorts, and really high socks," MN1 (Ret.) Mark Coltrain reminisced on the moment he found out he made the 2021 Team Navy roster.
As a Utah native, Coltrain joined the Navy in 2009 as a way to develop a legacy for his future family. "I saw joining the military as the right fit for me in order to build the future I wanted," said Coltrain.
Coltrain found success during his time in the Navy, as he catapulted himself to 1st Class in seven years and volunteered for back-to-back overseas tours, including five years in Bahrain and three years in Okinawa, Japan.
After an incident occurred, which resulted in an ascending aortic dissection, Coltrain was referred to the Navy Wounded Warrior Program by his medical case manager at the Naval Hospital.
Coltrain was excited when he found out about the Navy Wounded Warrior's Adaptive Sports Program. Coltrain expressed that the adaptive sports program was something fun to do in support of his recovery.
In Spring 2021, Coltrain participated in the virtual Navy Team Trials. "To be honest, I didn't know the full scope of the adaptive sports program and the Department of Defense Warrior Games," he commented.
His mindset changed when he saw his name on the official 2021 Team Navy announcement. Coltrain expressed, "It wasn't until the list came out and I saw my name in black and white that I realized this is bigger than I originally expected."
As an avid archer and hunter, Coltrain initially looked forward to competing in archery. After he was encouraged to participate in additional sports, he decided to also try out for field, golf and wheelchair basketball teams. He said, "I've got to be honest, archery is my love, it's my passion. But I am really excited to throw the disc…I am here to throw that disc." Since realizing his love for field, Coltrain has spent hours on online learning different techniques.
As a first-year Team Navy athlete, Coltrain shared that he is thankful to be part of a great team. He shared, "Although we come from different backgrounds, with different reasons for joining the Navy Wounded Warrior program, we can come together as one."
Navy Wounded Warrior is the Navy's sole organization for coordinating the non-medical care of seriously wounded, ill and injured Sailors and Coast Guardsmen and providing resources and support to their families.
The Department of Defense Warrior Games are a Paralympic-style competition among more than 200 wounded, ill and injured service members from all branches of the U.S. military, as well as from international armed forces. The 2021 Department of Defense Warrior Games will be hosted at Disney's ESPN Wide World of Sports Complex in Orlando, Florida from September 12-22, 2021. The invitation-only event features 12 sports: archery, cycling, field, golf, indoor rowing, powerlifting, shooting (precision air), sitting volleyball, swimming, track, wheelchair basketball and wheelchair rugby.
---
DoD Photo by Mass Communications Specialist 1st Class Christopher Okula