Athlete Spotlight – Frank Mmobuosi: Focusing on the Champion Within
August 16, 2021 | Story by Megan Trexler | Commander, Navy Installations Command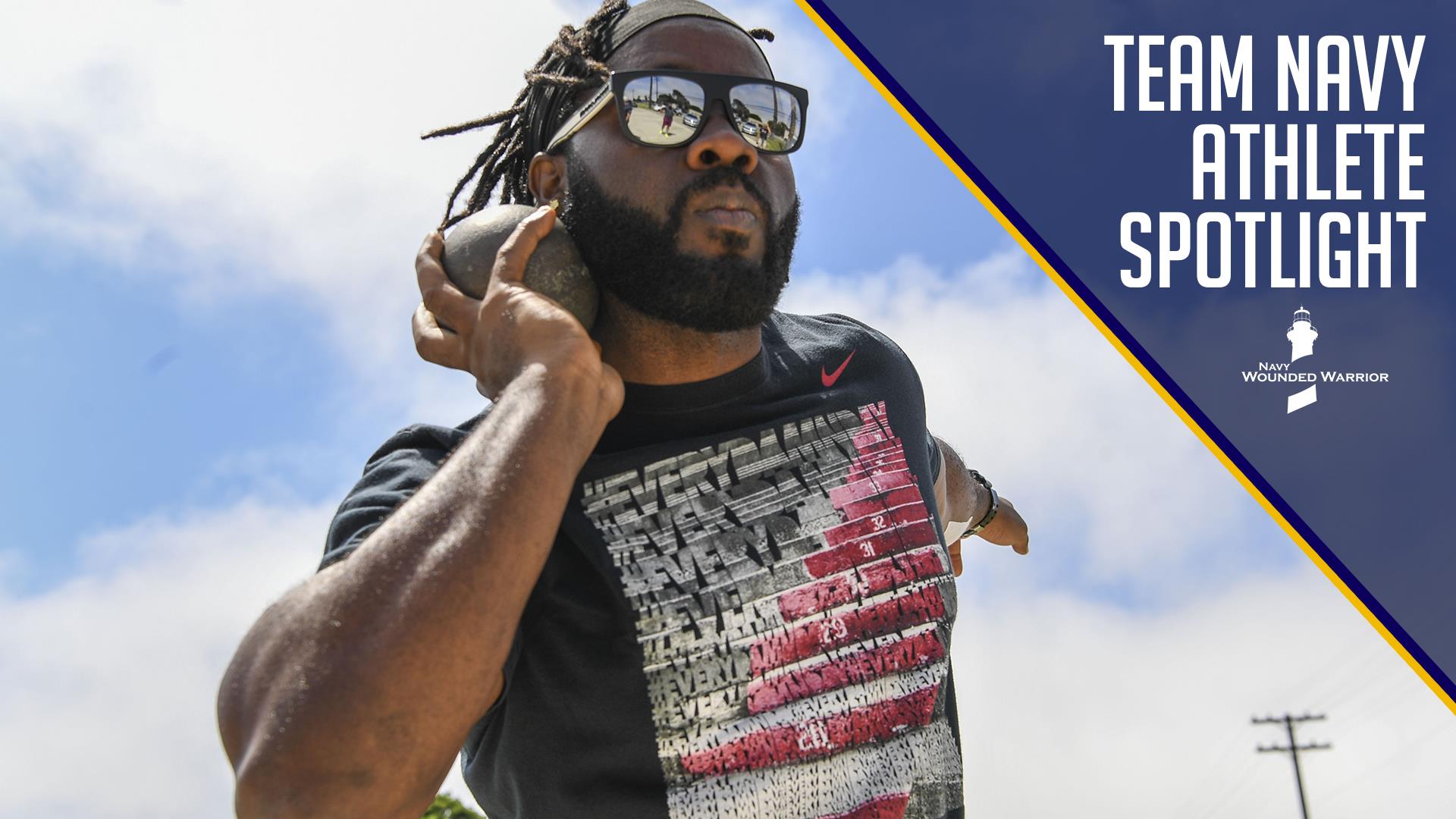 WASHINGTON – One move. Make it work. Make it count. Every time BM2 (Ret.) Frank Mmobuosi steps into the shot put ring, he gives the sport the grace, focus and power it deserves.
Mmobuosi carries himself with the composer and stature of someone who has been competing with Team Navy for years. But to many of his freshman team athletes' surprise, this is Mmobuosi's first year on the team. His intense, focused, yet positive approach allowed him to quickly find his stride during the 2021 Team Navy Training Camp.
Whether it is on the court with his sitting volleyball and wheelchair basketball teammates or on the green with a putter in hand, Mmobuosi consistently gives it his all. It is evident why Mmobuosi describes himself as an ambitious person, as he is going to participate in a total of five sports during the 2021 Department of Defense (DoD) Warrior Games.
This year's DoD Warrior Games will be the first time he is representing Team Navy. Mmobuosi is slated to compete in archery, golf, sitting volleyball, track and wheelchair basketball.
Navy Wounded Warrior is the Navy's sole organization for coordinating the non-medical care of seriously wounded, ill and injured Sailors and Coast Guardsmen and providing resources and support to their families.
The Warrior Games are a Paralympic-style competition among more than 200 wounded, ill and injured service members from all branches of the U.S. military, as well as from international armed forces. The 2021 Department of Defense Warrior Games will be hosted at Disney's ESPN Wide World of Sports Complex in Orlando, Florida from September 12-22, 2021. The invitation-only event features 12 sports: archery, cycling, field, golf, indoor rowing, powerlifting, shooting (precision air), sitting volleyball, swimming, track, wheelchair basketball and wheelchair rugby.