Adapative Sports Camp during Warrior Care Month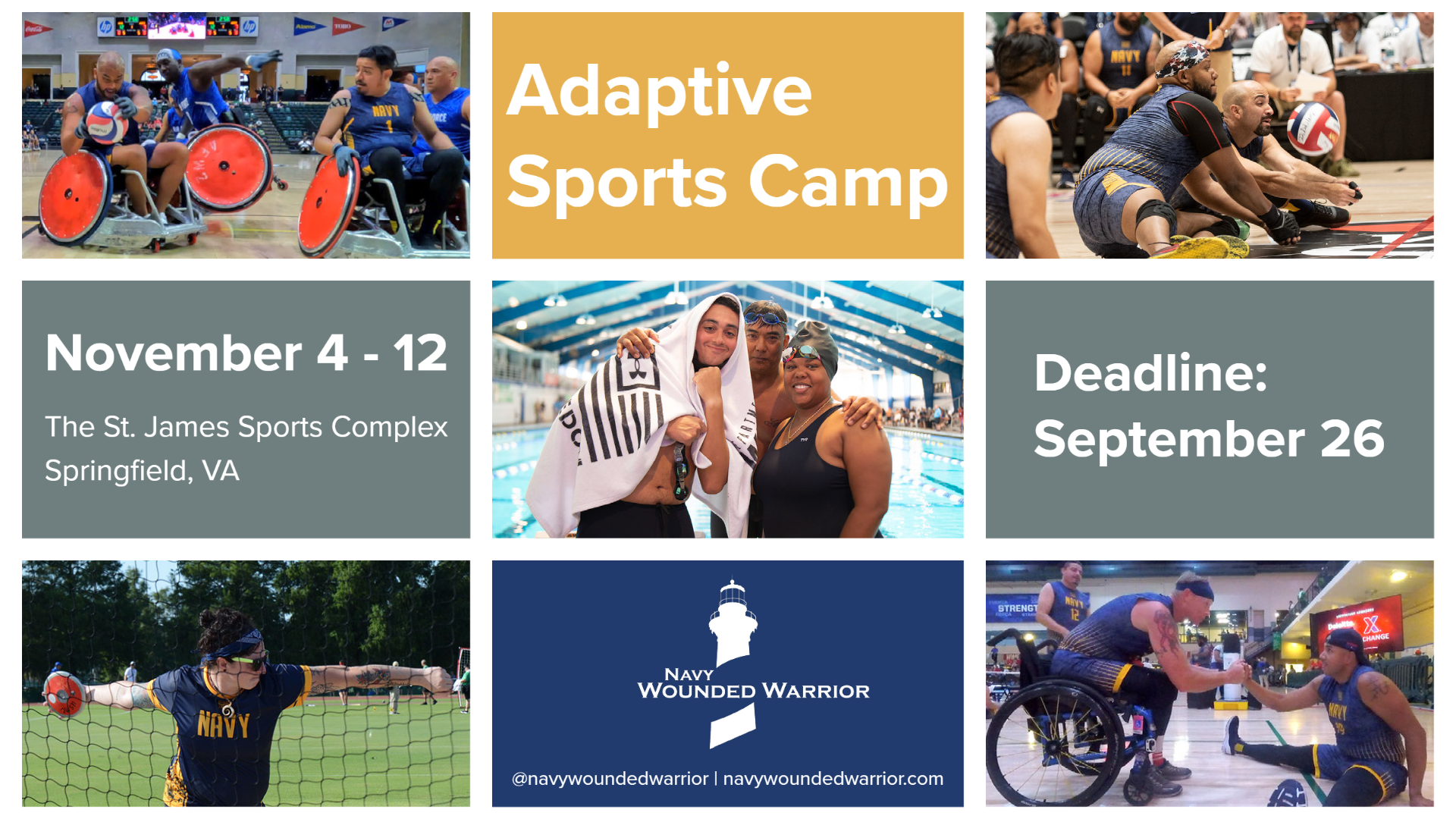 As part of Warrior Care Month in November 2022, Navy Wounded Warrior is hosting an in-person adaptive sports intro camp 4 - 12 November 2022 in Springfield, Va. It will be at The St. James Sports Complex, an all-inclusive venue near the Nation's Capital.
Navy will be participating in the following sports: indoor rowing, powerlifting, sitting volleyball, swimming, upright field, wheelchair basketball, and wheelchair rugby, as well as golf simulator, rock climbing, and sled hockey as recreational events.
Intro Sports Camps are a week-long opportunity to try multiple adaptive sports. Sailors and coastguardsmen have an opportunity to meet and build connections with other service members who are also going through transitional, healing, and recovery journeys. Participants are encouraged to try as many sports as possible. Expenses are covered by Navy Wounded Warrior for Active Duty/TDRL. PDRL/Ret. service members may register, but participation availability is very limited.
All participants must be vaccinated to attend this camp.
For any questions or to submit your forms (see below), please contact: Gabriel Coutino and Lizbeth Opiola.
Key Due Dates
About Navy Wounded Warrior's Adapative Sports Program
Fitness and teamwork are a way of life in the military. Serious illness or injury can profoundly impact this, often confining a service member to a hospital bed and significantly altering their physical capabilities.
Adaptive athletics are sports that have been modified to meet the abilities of injured or ill individuals. Sports play a special role in the recovery process because they help build self-esteem, lowers stress levels and prevents secondary medical conditions from developing.
All service members enrolled in Navy Wounded Warrior are encouraged to include adaptive athletics in their recovery plans to build strength and endurance. They help wounded warriors build strength and endurance, while also drawing inspiration from their teammates.
Get Involved in Navy Wounded Warrior
Navy Wounded Warrior coordinates the non-medical care of seriously wounded, ill, and injured Sailors and Coast Guardsmen, and provides resources and support to their families and caregivers. Regional non-medical care providers tailor support to each enrolled service member's recovery, rehabilitation, and reintegration needs. The program allows service members and their families to focus on recovery without distraction. To date, nearly 10,000 seriously wounded, ill, and injured service members located throughout the country received assistance. Enrollment in Navy Wounded Warrior does not end when a service member leaves a medical treatment facility. Navy Wounded Warrior provides a lifetime of support.
To learn more about enrollment, contact Navy Wounded Warrior at 855-NAVY WWP/855-628-9997 or email navywoundedwarrior@navy.mil.