LT Rosanna Barrera Named Navy Region Southwest's Navy Wounded Warrior of the Month for August 2022
August 5, 2022 | Story by Alyssa Ross | Navy Wounded Warrior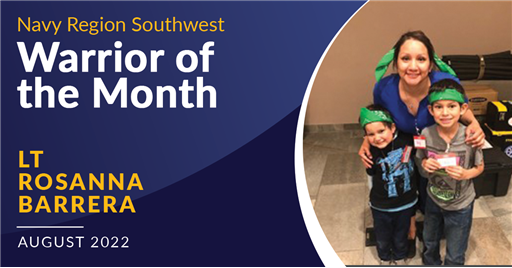 WASHINGTON – LT Rosanna Barrera was named the Wounded Warrior of the month for August 2022 by Navy Region Southwest.
LT Barrera joined the Navy in 2002 as a hospital corpsman. She suffered a traumatic brain injury in Iraq in 2004 that contributed to memory issues, but never affected her attitude or outlook on life. Later while assigned to TRANSCOM, she developed fibromyalgia, asthma, and her injuries from previous deployments worsened. She was placed on LIMDU to focus on healing and her health.
While assigned to the LIMDU department at Naval Medical Center San Diego, she established a statement of understanding with the hospital's human resources department to process new LIMDU gains to be a "one-stop shop" for sailors assigned to the hospital to focus on their care. After completing her first LIMDU period, she was recommended to a medical board because she was not healing and not improving.
LT Katelyn Briscoe, NRSW recovery care coordinator, nominated LT Barrera. "The transition from being active duty and healthy to being on LIMDU and not improving has significantly increased the stress on her and her family. However, being in San Diego with a supportive chain of command and being part of the Navy Wounded Warrior program has been helpful in finding resources to aid in the healing process. LT Barrera is looking forward to having her dog trained and certified as a service animal to help her with her combat PTSD and social anxiety."
LT Barrera had duty stations at National Naval Medical Center Bethesda, Field Medical Service School Camp Pendelton, and 1st Force Service Support Group. She deployed twice to Iraq. She was also assigned to Naval Hospital Camp Pendelton, 3rd MAW, NAval Hospital Sigonella, and TRANSCOM.
Navy Wounded Warrior coordinates the non-medical care of seriously wounded, ill, and injured Sailors and Coast Guardsmen, and provides resources and support to their families and caregivers. Regional non-medical care providers tailor support to each enrolled service member's recovery, rehabilitation, and reintegration needs. The program allows service members and their families to focus on recovery without distraction. To date, nearly 10,000 seriously wounded, ill, and injured service members located throughout the country received assistance from Navy Wounded Warrior.