A Success Story: JC Scott
By Heidi Weller | Shared from Navy Safe Harbor Foundation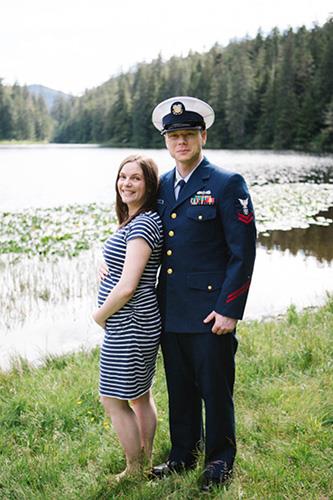 If you met JC Scott today you would see a passionate and talented farmer, active in his community and church, fulfilling his dream of a large family and a happy marriage. You might talk to him at his Rocking JS Coffee Company & Produce Cart or perhaps you would meet him at his children's school, or you might attend one of his classes on chicken tending. What you wouldn't see is his resilience in the face of a significant and life-altering injury incurred in the line of duty.
JC's life changed while attending the Coast Guard's Maritime Safety Response Team (MSRT)-Counter-Terrorism Assault Team training. He took a 10-foot fall, fracturing his T4 vertebrae. True to the Coast Guard motto, Semper Paratus – Always Ready – JC got up from that fall and completed his training, earned a spot on the MSRT and continued toward his goal of a full Coast Guard career. This plan changed however when the fall left him with permanent and life-altering pain and mobility issues. Treating his ongoing symptoms required him to be placed on limited duty, so he accepted orders to Ketchikan, Alaska with the hope that he would fully recover, continue his Coast Guard career, and ultimately be able to become a Coast Guard retiree someday!
JC, his wife Stephanie, and two children moved from Chesapeake, Virginia to Alaska in 2014, for a position that met his particular medically required restrictions. They developed a strong community within both the Coast Guard family and the town. As JC's symptoms continued to worsen, and doctor's appointments consumed more of his time, that community and the support they provided sustained the Scott family. During this period, JC was encouraged to enroll in the Navy's Wounded Warrior Program (NWWP). Once enrolled, he was assigned to work with a Recovery Care Coordinator (RCC), Mr. Edward Garcia, who assisted JC in coordinating resources that would facilitate all aspects of his recovery. JC describes the NWWP to be the recipe that helped him, and his family builds their new life. A bright spot during this challenging time of their lives was the birth of their daughter on Christmas day 2014. Sadly, JC's symptoms progressed, limiting the use of one arm and his ability to walk, resulting in a medically necessary retirement in 2016--definitely not part of his plan.
A long drive from Alaska to Florida returned the Scott's to their family and friends and put them in touch with a well-regarded Chiropractor who has been instrumental in getting JC off of the 17 different medications he was taking and has allowed him to return to an active and engaging lifestyle. Through hard work and help from family, friends, professionals and the community, JC has recovered enough that he and Stephanie have added to their family with a fourth child and welcomed two foster children into their home, established a mango and peach grove, built a working relationship with other farmers to provide produce for their community, and are raising cows, chickens and sheep on their farm. And just to be sure he wasn't bored, JC returned to school to further his education in Horticulture and Landscaping. Wow!
While JC could not have imagined that he would ever have to go through this experience, he believes that he has grown in ways that he would not have anticipated prior to his injury. He gives credit to his family, his God and the NWWP for helping him in his recovery. I give credit to JC's amazing attitude and perseverance!
The Navy Safe Harbor Foundation is a non-profit organization. No Navy endorsement implied.