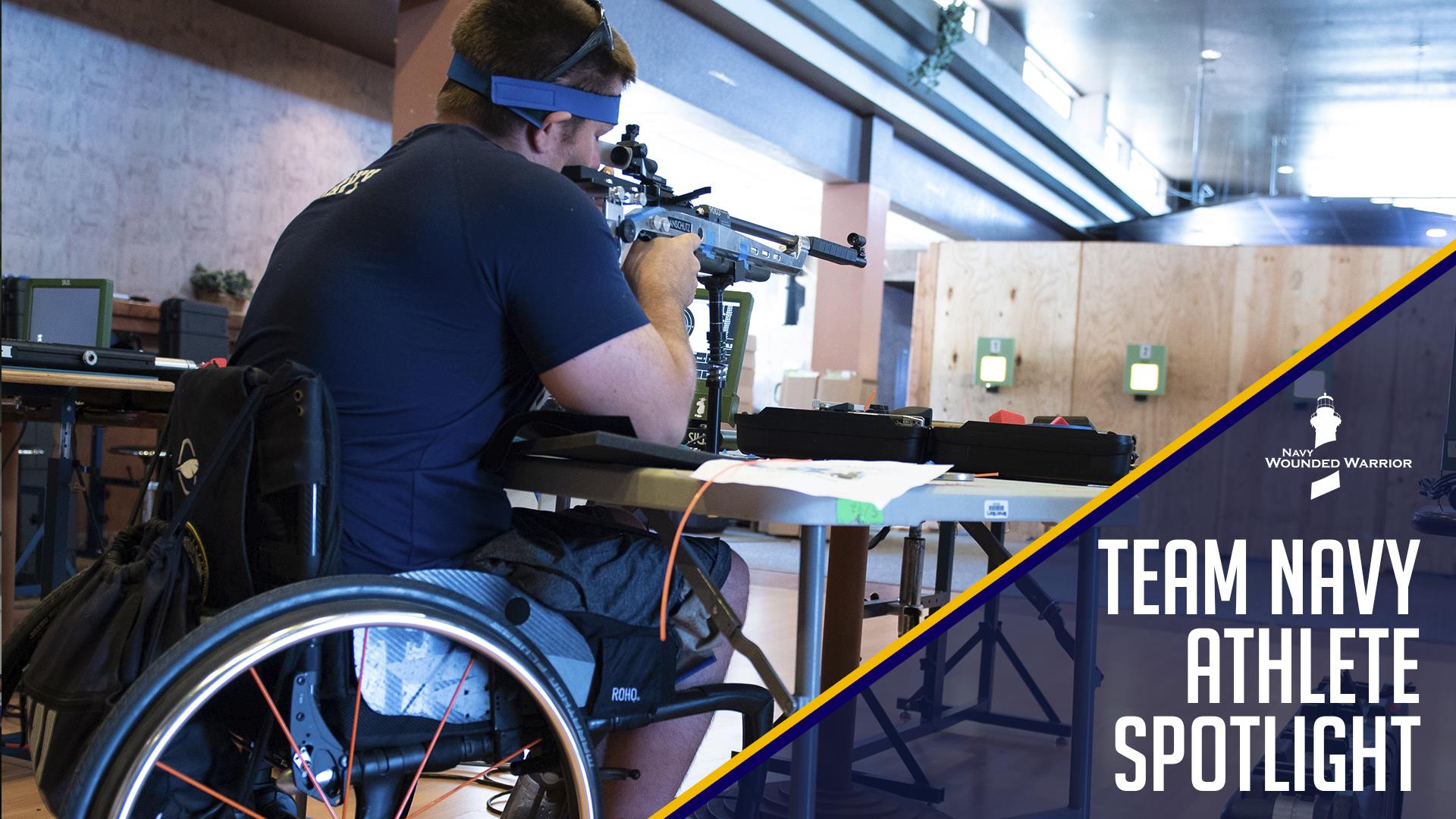 Athlete Spotlight – Austin Parker: Recovery Through Athletics
December 30, 2021 | Story by Megan Trexler | Commander, Navy Installations Command
WASHINGTON – The 2021 Department of Defense (DoD) Warrior Games in Orlando, Florida would not have been AD1 (Ret.) Austin Parker's first time at the international Paralympic style competition --- in fact, the seasoned athlete has previously represented Team Navy during the 2018 DoD Warrior Games held in Colorado Springs, Colorado and 2019 DoD Warrior Games held in Tampa Bay, Florida.
After the 2019 DoD Warrior Games, Parker said, "It really sucked cutting my career short, so being able to go back and represent Navy and have some accomplishments there is quite nice." In the 2019, Parker took home 11 medals, including 7 gold medals across cycling, shooting and swimming.
On being selected to represent Team Navy again at the 2021 DoD Warrior Games, Parker said, "I am happy to be here again. This program has helped me so much. With it being my third games, I try to be a mentor, to be there for the new people."
Parker shared that shortly after being released from the hospital after his accident, he attended his first Navy Wounded Warrior adaptive sports camp. Parker shared, "[It] put me with the right spot, with good people to help guide me…I really do think it helped accelerate my recovery."
Parker joined the US Navy in 2007 and retired in 2017. Since retiring, Parker has moved back to his hometown in California.
Parker was set to participate in multiple sports during the 2021 DoD Warrior Games. He shared that he was most looking forward to cycling, shooting and wheelchair rugby.
Navy Wounded Warrior is the Navy's sole organization for coordinating the non-medical care of seriously wounded, ill and injured Sailors and Coast Guardsmen and providing resources and support to their families.
The Warrior Games are a Paralympic-style competition among more than 200 wounded, ill and injured service members from all branches of the U.S. military, as well as from international armed forces. The 2021 Department of Defense Warrior Games would have been hosted at Disney's ESPN Wide World of Sports Complex in Orlando, Florida from September 12-22, 2021. The invitation-only event was going to feature 12 sports: archery, cycling, field, golf, indoor rowing, powerlifting, shooting (precision air), sitting volleyball, swimming, track, wheelchair basketball and wheelchair rugby. The 2021 DoD Warrior Games were canceled due to ensure the safety, health and well-being of our service members and local communities as the COVID-19 Delta variant continues to affect the country.