Athlete Spotlight – Donald Calero: Navigating Life's Twist and Turns
August 14, 2021 | Story by Megan Trexler | Commander, Navy Installations Command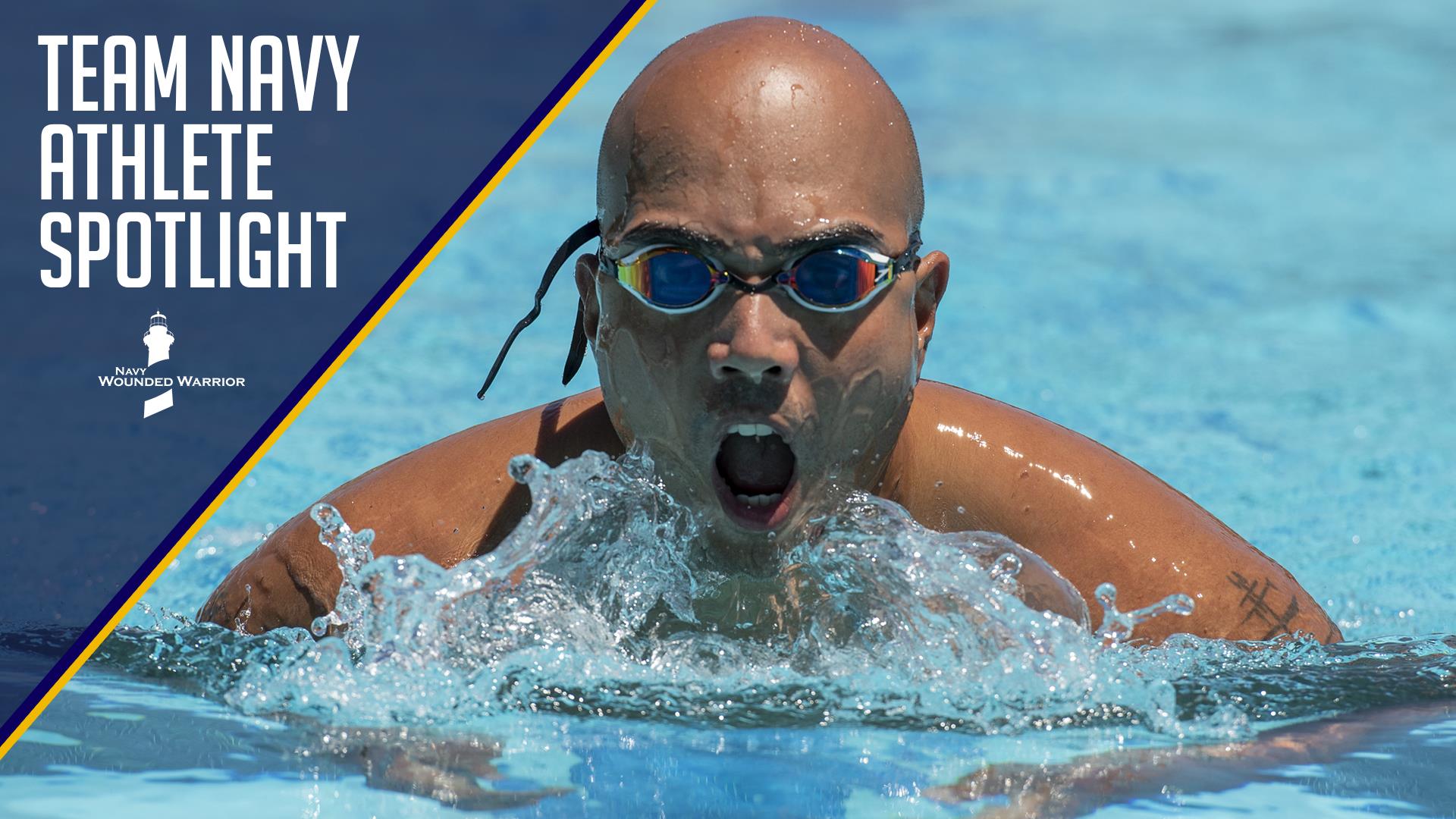 WASHINGTON – The events that occur in one's life often form a ripple effect that can lead to fresh opportunities, transformations, and new found purpose. Those events can alter one's perceptions, redefine their future, and ultimately affect how one chooses to tackle life's obstacles.
Only a few months into deployment, HM3 Donald Calero, and the U.S. Marine Corps unit he was attached to, went for a company run. Two miles into the five-mile run, Calero felt excruciating pain in his lower left back. Considering himself an athletic person, in relatively good health, Calero knew something was not right.
"What lead me to finding out about the cancer was completely random," shared Calero. Initially, Calero was treated for kidney stones. However, when a few days passed with no sign of relief, he was sent from Camp Fuji to Yokosuka Naval Base for a computerized tomography (CT) scan. After further testing, Calero's doctors found a cancerous mass.
Almost immediately, he was on a flight back stateside. Within 6 hours of landing in the U.S., he underwent surgery, the first of many steps in his treatment plan. "Everything happened so fast. My wife and I didn't know what to do…you know, we were intimidated about the whole experience and didn't even know where to start," Calero shared about his mindset during the weeks that followed the diagnosis.
Through coworkers, Calero found the Navy Wounded Warrior program. "It was a huge relief when my wife and I met with the Navy Wounded Warrior staff. It was one of the first times someone told us that 'everything was going to be okay…that they were here to help us make it through this,'" Calero remised about his initial contact with the Navy Wounded Warrior program.
In more ways than one, his diagnosis would forever change his life. The diagnosis and the subsequent events, not only initiated a new journey, but allowed Calero to find a new passion. Through the twist and turns of an ever-changing recovery journey, Calero found new life when he joined the Navy Wounded Warrior family and started participating in adaptive sports events.
"This is my first year on the team and my first time meeting everyone in person because of COVID-19. But it already feels like I am a part of this incredible family," Calero shared about his experience at the 2021 Team Navy Training Camp. "Adaptive sports and being part of this family has made me grow exponentially, both physically and mentally," said Calero.
"Since receiving my last round of chemotherapy in October 2019, everything has shown positive results. No extra growth and the two tumors have gone down. So far, so good," Calero shared about his current status.
Whether it's out on the field, in the pool, or on the court, it's evident that Calero is living proof that a medical diagnosis does not define a person. Even through life's scariest obstacles, friendship can form unbreakable bonds and new passions can be discovered.
This is Calero's first time representing Team Navy during the Department of Defense Warrior Games. As a freshman athlete, Calero is slated to compete in field, shooting, swimming, and sitting volleyball.
Navy Wounded Warrior is the Navy's sole organization for coordinating the non-medical care of seriously wounded, ill and injured Sailors and Coast Guardsmen and providing resources and support to their families.
The DoD Warrior Games are a Paralympic-style competition among more than 200 wounded, ill and injured service members from all branches of the U.S. military, as well as from international armed forces. The 2021 DoD Warrior Games will be hosted at Disney's ESPN Wide World of Sports Complex in Orlando, Florida from September 12-22, 2021. The invitation-only event features 12 sports: archery, cycling, field, golf, indoor rowing, powerlifting, shooting (precision air), sitting volleyball, swimming, track, wheelchair basketball and wheelchair rugby.