Athlete Spotlight – Alexis King: A True Warrior Spirit
August 12, 2021 | Story by Megan Trexler | Commander, Navy Installations Command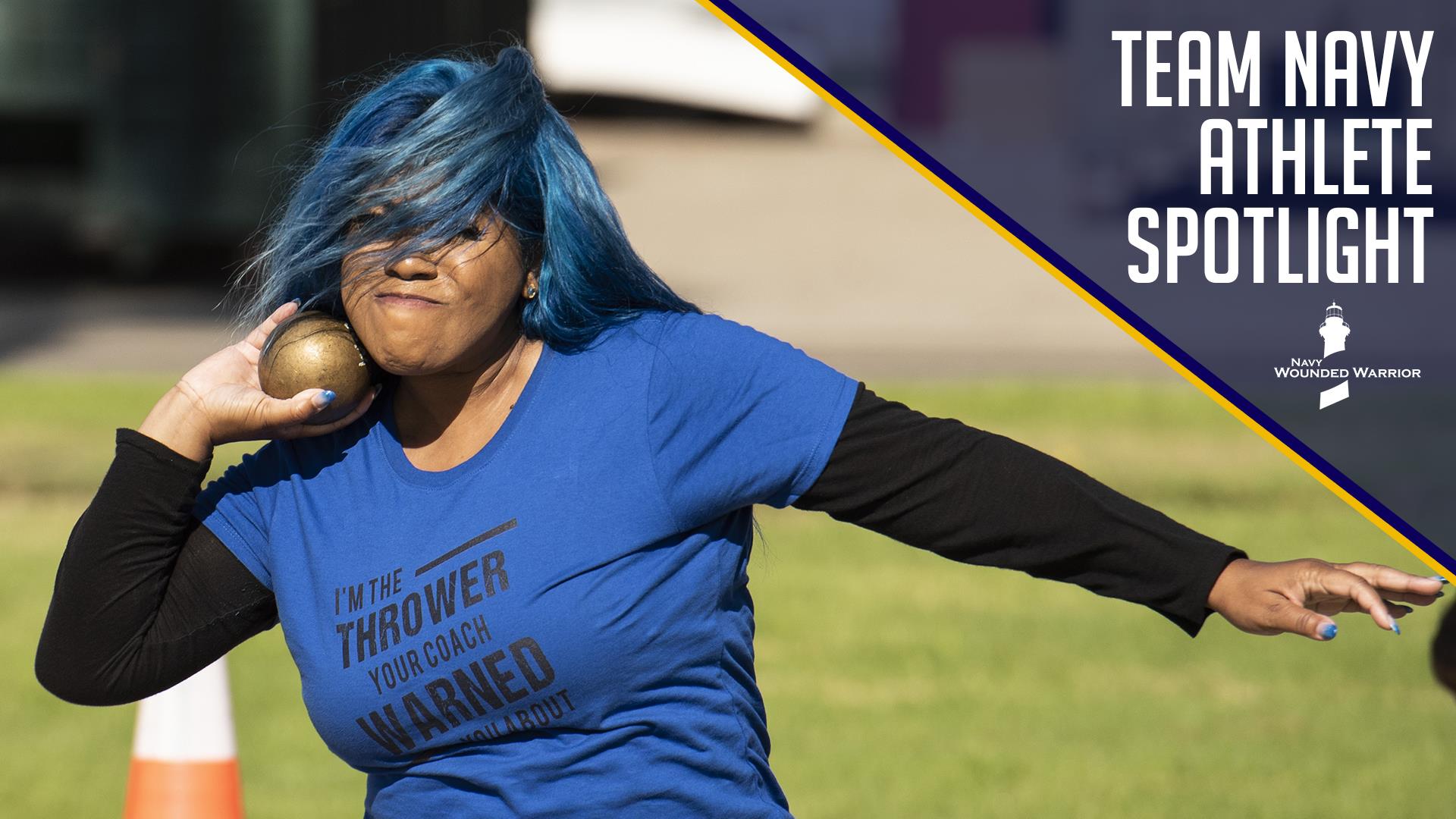 WASHINGTON – YN3 (Ret.) Alexis King's blue hair and outgoing personality are not the only reason she stands out in a crowd. King did not grow up playing sports, though her presence on the field paints a different picture. She performs with the intensity, coordination and endurance of an experienced athlete.
In December 2014, months after having her first son, King's doctors found a tumor on her heart and after several tests, diagnosed her with heart cancer. In her 20s, with a newborn baby at home, she fell into a depression after the diagnoses. "After that, you know, a lot of things changed for me. Not only was I dealing with cancer, but then I was dealing with depression and anxiety," cited King. King initially gave up on many aspects of her active life, including dancing.
In 2015, King was introduced to adaptive sports through her Navy Wounded Warrior Care Manager, where she was able to build back her confidence. It was the like-minded people she met during Navy Wounded Warrior's adaptive sports events that transformed her outlook on life and let her open up to people again.
"This camp has been incredible. I am definitely exhausted and sore from training at this level. But it's actually a breather for me…to be able to get away from everything. I have no other choice but to focus on me and enjoy the time getting to know the other athletes," King stated about her experience at the 2021 Team Navy Training Camp at Port Hueneme, California.
King shared that what drew her to the adaptive sports program was that, "When it's time to compete, I am focused on that. I don't hear anything else. All my focus is on the sport." King said that participating in adaptive sports has been a huge part of her recovery journey.
King expressed that her outlook on life is that, "We don't have bad days. We only have good days and learned opportunities." This mindset is evident through her animated, positive personality, even through tough times.
King is a veteran athlete, previously representing Team Navy during the 2018 Department of Defense (DoD) Warrior Games in Colorado Springs, Colorado. During the 2021 DoD Warrior Games, King is slated to compete in field, shooting, wheelchair basketball and wheelchair rugby.
Navy Wounded Warrior is the Navy's sole organization for coordinating the non-medical care of seriously wounded, ill and injured Sailors and Coast Guardsmen and providing resources and support to their families.
The DoD Warrior Games are a Paralympic-style competition among more than 200 wounded, ill and injured service members from all branches of the U.S. military, as well as from international armed forces. The 2021 DoD Warrior Games will be hosted at Disney's ESPN Wide World of Sports Complex in Orlando, Florida from September 12-22, 2021. The invitation-only event features 12 sports: archery, cycling, field, golf, indoor rowing, powerlifting, shooting (precision air), sitting volleyball, swimming, track, wheelchair basketball and wheelchair rugby.