2022 Navy Team Trials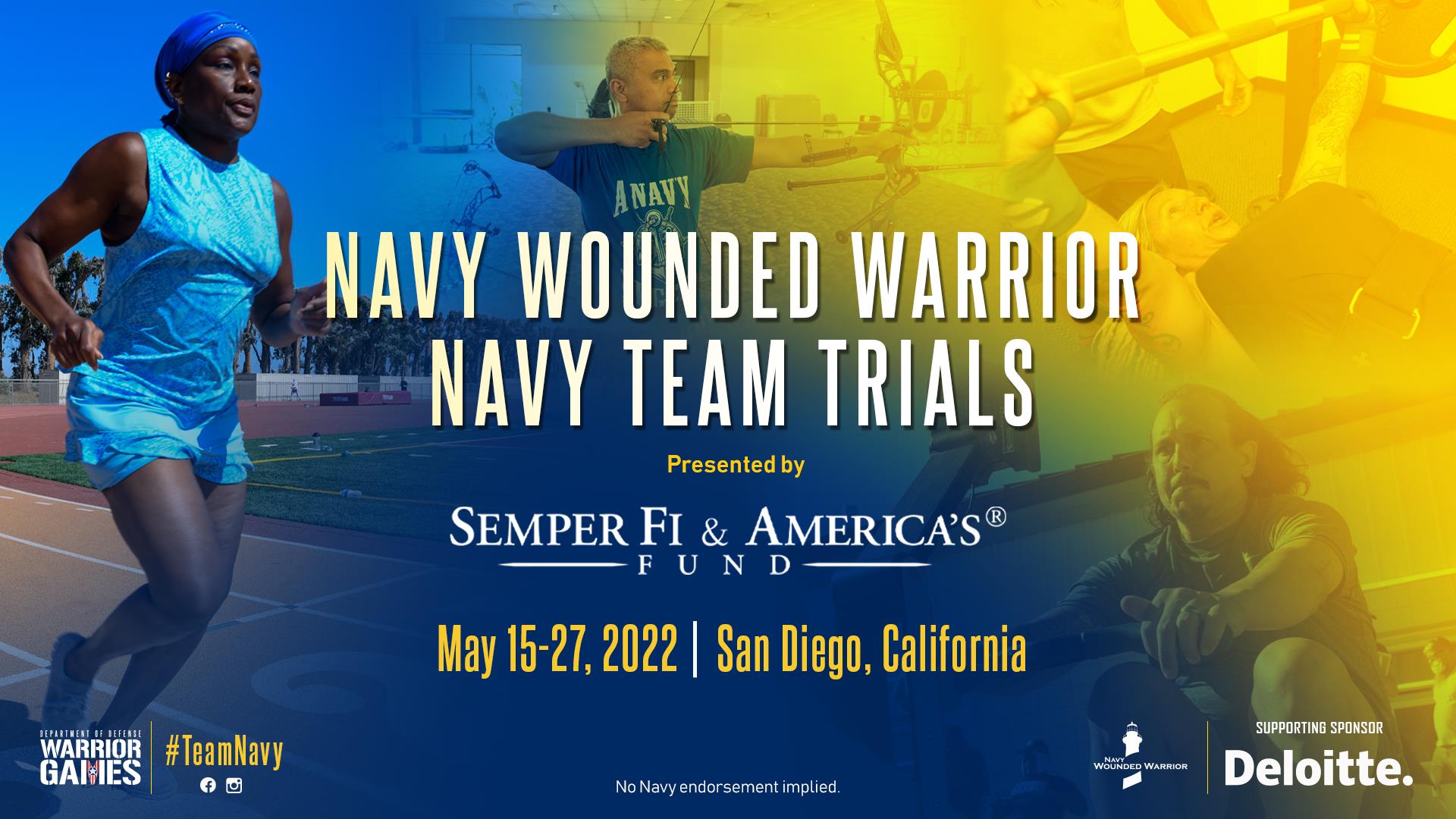 Calling all warrior athletes...Navy Wounded Warrior will be hosting the 2022 Navy Team Trials May 15-27, 2022 in San Diego, California.
During the Navy Team Trials, athletes will compete in sports such as archery, cycling, field, golf, indoor rowing, powerlifting, shooting (precision air), sitting volleyball, swimming, track, wheelchair basketball and wheelchair rugby. No sports experience needed. Equipment will be provided.
Registration is now open! Click here to download the application. Applications are due Friday, March 22, 2022.
To submit your application or for more information, email Lizbeth Opiola.
------------------
ABOUT THE NAVY WOUNDED WARRIOR'S ADAPTIVE ATHLETICS PROGRAM
Fitness and teamwork are a way of life in the military. Serious illness or injury can profoundly impact that way of life, often confining a service member to a hospital bed and significantly altering their physical capabilities.
Adaptive athletics are sports that have been modified to meet the abilities of injured or ill individuals. They help wounded warriors build strength and endurance, while also drawing inspiration from their teammates.
All wounded warriors enrolled in Navy Wounded Warrior are encouraged to include adaptive athletics in their recovery plans to build strength and endurance. Sports also helps build self-esteem, lowers stress levels and prevents secondary medical conditions from developing.
Warrior Games
The Warrior Games are a Paralympic-style competition among more than 200 wounded, ill and injured service members from all branches of the U.S. military, as well as from international armed forces. The invitation-only event includes competitions in archery, cycling, seated volleyball, shooting, swimming, track and field, and wheelchair basketball. The wounded warrior athletes have upper-body, lower-body and spinal cord injuries, traumatic brain injuries, visual impairments, serious illnesses, and/or post-traumatic stress.
The Warrior Games are presented by the Department of Defense and hosted by individual services on an annual rotational schedule.
The goal of the Warrior Games isn't necessarily to identify the most skilled athletes, but rather to demonstrate the incredible potential of wounded warriors through competitive sports.
Getting Involved
Connect with the Navy Wounded Warrior adaptive sports coordinator via the call center at 855-NAVY WWP/855-628-9997 or via email at navywoundedwarrior@navy.mil to determine which activities are right for you. Navy Wounded Warrior hosts a series of adaptive athletic reconditioning camps at naval bases throughout the country that focus on strength training, nutrition and a variety of sports. Athletes of all ability levels are welcome. The program also involves enrollees in camps hosted by partner organizations and international competitions, such as the Invictus Games.